Tag: legal nurse
Good article on nursing home neglect and abuse.   Legal Nurse Consultants can play a pivotal role in these cases Please also review our Legal Nurse Consulting Certification The article, Understaffing at Nursing Homes Can Lead to Neglect, by Melanie J. VanOverloop states, "Nursing homes or assisted living facilities are often a transitional step for the elderly after they stop living independently at home but before they enter a skilled nursing facility. Although the number of nursing homes is booming, oversight of these facilities is very limited, and the regulations governing them vary state by state. This lack of uniformity is also evidence
legal nurse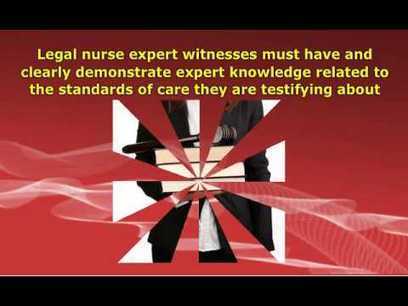 Legal Nurse Consultants frequently practice in the role of the expert witness in nursing malpractice cases. This is a special role that focuses on the legal … American Institute Health Care Professionals's insight: Legal Nurse Consultants can play the role of expert witness in many situations.  This video looks at the role of a legal nurse consultant in these situations and what they do.  If you are interested in learning more about legal nursing, then please review the program. #programforlegalnursing See on www.youtube.com
legal nurse
The Legal Nurse: Understanding Product Liability Legal nurse consultants are working today in cases involving legal nursing related product liability. Many people share a common misconception that the only proof that is required in product liability cases is prove regarding product defect and injury to the plaintiff. This is entirely not the case as the process is a little bit more complicated and specialized than that. In fact, product liability law suits are more expensive and complicated compared to other kinds of lawsuits. This article presents a good review of the issues surrounding product liability claims of negligence. Legal nurses
legal nurse, legal nurse consultants, legal nursing consulting program
The Legal Nurse The legal nurse provides information for legal nurse consultants as well as registered nurses in areas of nursing malpractice, as well as other legal issues. By: Janet Kress Being a nurse is one of the most rewarding jobs a person can have. A nurse can save a person's life, help someone recover from a surgery or even help a sick child. There are many nursing jobs available, the pay is amazing and the benefits are very good. However, a nurse can be held liable for anything that happens while they are on their shift. This is why
legal nurse, legal nurse consultant training, nursing malpractice insurance
Legal Nurses Can Protect Your Rights Is your insurance company permitted to have access to your medical records? Do you know if they are reviewing the intimate details of your medical history and care? The answer to this is yes and in many cases it takes a legal nurse to help you. Federal law allows this. This occurs because hospitals that receive medicare reimbursements must participate in a Peer Review Organization System. This system provides for quality of care review to insure patients are receiving appropriate care. Hospitals must contract with a peer review organization. The peer review organization then
legal nurse, seek the consultation of a registered legal nurse
The Legal Nurse Medical or Health Care malpractice can be defined as a professional negligence by a medical professional i.e. a doctor, a surgeon, a nurse or any other healthcare professionals that results in emotional or physical harm to a patient. Medical malpractices come in many forms. For instance, a medical malpractice can be as a result of an act or an omission of a necessary act or care that eventually harms a patient.  The four elements of medical malpractice There are four main elements that have to be proven in any given medical malpractice case. These elements include; duty,
health care malpractice, legal nurse, legal nurse consulting
Legal Nurse Consulting Corner HIPPA Privacy Rules In Simple Terms HIPPA stands for Health Insurance Portability and Accountability Act. This act, which was passed into United States law in the year 1996 under the mandate of President Bill Clinton, is intended to do several things at the same time. HIPPA is a very complex act that can seem inaccessible and difficult to understand to patients, entities and even some physicians. HIPPA privacy rules for health care are simply, when it comes down to it, a federal law used to protect patients from their information being used or released without their
HIPPA, legal nurse, legal nurse consultants, legal nurse consulting
Legal Nurse Consultation One of the most difficult things that a family member can go through is having to make a important medical decision regarding a loved one who is unable to speak for himself or herself. The stress of making such a decision in a hospital or nursing home can be overwhelming to those making the decision. Additionally, if there is any disagreement within the family about what course of medical action to take regarding the loved one, the situation can only become worse. The living will can help relieve some of the burden in difficult times when a
legal nurse, legal nurse consultant
Thank you for visiting our AIHCP web blog. This category of the blog focuses on the specialty practice of Legal Nurse Consulting. Our blog provides our visitors and professional members and students an ever expanding platform for related articles, information, discussions, event announcements and much more. We invite your participation by posting comments, information, sharing and authoring for our blog. Please visit us often and be sure to book mark us!
consulting, courses, legal nurse