How to Register for a CE Course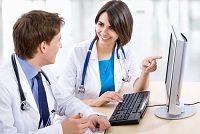 INFORMATION
Thank you for your interest in our online courses/programs for Certification.
If you would like to register for a course, here are the instructions:
1. Please click your browser back to the page you were just on; the page that lists the CE courses in the program you are interested in.
2. Scroll down and find the course you are ready to register for.
3. Right below the short course information, you will see a "red link" titled" Register for Course; click on that link. Or, if you prefer, you may access this link now to be taken to the online course registration form: click here.
4. You are now at the Registration Form. Complete the online registration form and click submit.
5. You will now be taken to the access page to our secure online credit card server. You may process your tuition fee by credit card. We accept Visa, Master Card and American Express.
6.. If you would rather postal mail in your payment, you can do so. Just complete the online registration form and print it out. You may postal mail to:
American Institute of Health Care Professionals, Inc.
2400 Niles-Cortland Rd. SE Suite # 4
Warren Ohio 44484
We do accept personal checks and money orders.
You may also fax in a course registration form along with credit card payment information. Our fax is: 330-652-7575
Once we have received your completed course registration form and payment for the course, you will receive an e-mail welcome from us with all of the details for accessing your online classroom. Please note that it may take 24-48 hours before you receive your e-mail with your instructions and password for entering the classroom.
We hope this information is helpful to you. If you have any questions or need assistance, do not hesitate to let us know. You can easily contact us at:
e-mail: info@aihcp.org
Phone: 330-652-7776
Thank You
Sincerely,
Dominick L. Flarey, Ph.D, MBA, RN-BC, FACHE
Executive Director
The American Institute of Health Care Professionals, Inc.